When we recently asked people if they still thought Malta was a safe country, the majority felt that it was no longer the case. Sure, there might be countries that are worse off, but by no means does that deny the fact that there are very real and present dangers that need dealing with. One of these dangers was the sharp increase in domestic abuse cases during the pandemic, as people were forced to remain indoors, an unfortunate trade-off between two dangers.
However, there may be hope yet, as a type of spray in the UK called SmartWater has been reshaped into an abuse-deterring weapon that has already seen some success in the short time it has been used for such cases.
Made available for free
SmartWater is a forensic liquid that shows up under ultraviolet light and remains on the skin for up to six weeks and on clothing for even longer. Created with a combination of rare elements, each bottle is unique and has a different amount of these particles within it, which means that if a perpetrator is found with this liquid on their person or clothes, it would categorically link them to the scene of the crime, leaving no room for doubts.
In West Yorkshire, a man was convicted and jailed for breaching his non-molestation order, after harassing his ex-partner, with SmartWater being a key piece of evidence leading to the conviction. The victim was given, like 200 other women across England, a SmartWater kit, that includes a hand-held canister for spraying, a gel variation to apply to door handles and gates as well as an automatic trap that sprays the liquid when someone approaches the house.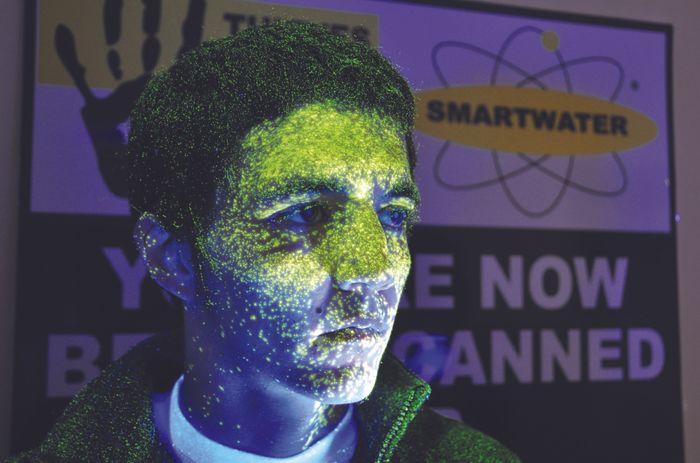 Part of its success is the fact that, in cases such as these, it is given for free to people who are at risk at a maximum of one kit per household. Though originally designed to protect items that can be stolen, its success led to UK police rethinking how it can be used, with Detective Superintendent of West Yorkshire Police Lee Berry being credited for the rethink.
Deterring, practical & cheap
DS Berry said to the BBC that "domestic abuse is quite often difficult to prosecute and a lot of these crimes occur behind closed doors. It can be one word against another. "If we forensically mark, then we can track someone back to a location. We'll know who the perpetrator is, and we'll know who the victim is, as well." 94% of the victims surveyed who were given SmartWater reported that their attackers had not been in contact with them.
In some ways, it's even more effective than CCTV, because if a perpetrator is masked or has their face obscured, then it's a tad more difficult to place them at the scene of the crime, not to mention that cameras might also have blind spots. SmartWater, as described earlier, carries a unique mixture that leaves no doubt about who was on the scene and is also invisible to the naked eye.
It's also a massive reduction in police costs when investigating such crimes. In the UK, it costs around £640 (€767) to respond to a domestic abuse incident, while the kit costs around £150 (€180) per person per month. If every person who is at risk is given such a kit, it acts as a major deterrent in a best-case scenario, and if an offence is caused, then it's likely that a guilty verdict will be returned.
Would you like to see this product introduced in Malta?