So, Meta's suggesting that it might pull Facebook and Instagram out of Europe unless the EU relaxes its privacy stance? Well, don't threaten us with a good time. While we believe that it's unlikely something of the sort will take place, let's say that does come to pass, what next? Do we go back to pre-social media times? Highly unlikely; we're used to this way of living, so we'll find a new online experience to fill that FB or Insta-shaped hole.
Here three social media platforms, in no particular order, that can replace Facebook and Instagram to some extent if we ever face the prospect of living without them.
Use your mind
One of the top-rated alternatives is Minds, which launched in 2015 as a pretty direct response to Facebook's data collection revelations and subsequent leaks. It's got a similar system to Facebook in terms of feeds, groups, posts, sharing and user profiles but with added caveats of priotising privacy, security and not collecting any user information to create an algorithm-fuelled news feed.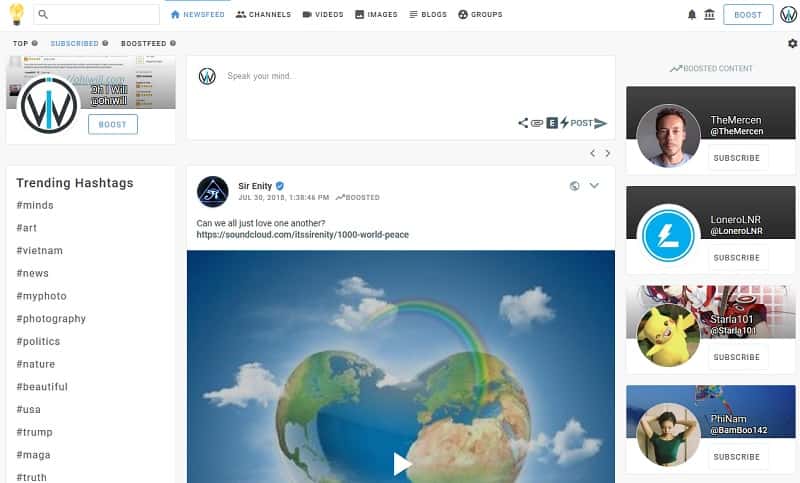 The other aspect that sets this platform apart is the way cryptocurrency is integrated into it. Users can generate Minds tokens by creating engaging content, which they can then use to promote their posts on the network or exchange them for other cryptocurrencies or cash. The downside is that it might take some time to get used to, but a platform that's like Facebook with none of the stuff we hate about it sounds like a great proposition.
Anti-misinformation
One of the sticks used to beat Facebook, and with good reason, is its lack of moderation for misinformative content. One platform that has no time for such shenanigans is WT Social, created by Wikipedia founder Jimmy Wales. Dubbing itself the "non-toxic" social media platform, contributors can edit any inaccurate content and any members who violate the terms and conditions are quickly removed.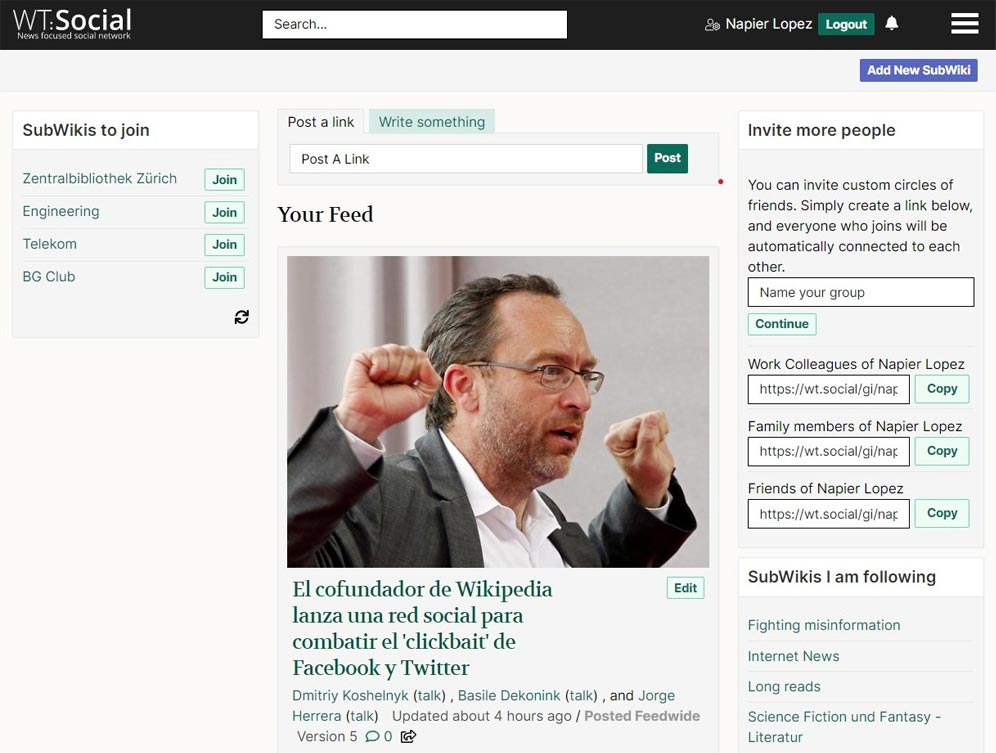 It's a platform sincerely dedicated to connecting people and sharing accurate information, and interaction takes place via the "Talk" feature. However, there are no group or event features, so it's quite simply a platform for discussion and interaction, which could be OK in most scenarios, but probably won't fully replace Facebook.
Calling art & photography aficionados
Part of the fun of Instagram is the editing and filters we put onto our photos; sure, that doesn't make the vast majority of us photographers by any stretch of the imagination, but for those who are actual photographers or artists, or simply appreciate such art, then Ello might be the platform for you. "Built by artists, for artists" is their reason for being, and is a place to like, share and comment on work that appeals to you and follow creators for more.
You can also get access to job opportunities as well as sell your work through the platform. There's no forwarding of user data for advertising purposes and users are not forced to use their real name if they've got an alternative they'd prefer to use. So, instead of setting up an artist page on Facebook or Instagram to share your art, you can head to Ello.
The local option
On this island, we just love a homegrown product and xjismu is a great social media platform that's similar to what WT Social offers but with more of a local context. It's a platform for discussing pretty much everything, from the merits of Roberta Metsola's new role to issue with the painting of lines on Maltese roads.
The platform's goal is to create a community that prioritises the sharing of information without boundaries with a determination to give each user an equal voice on its platform. In the terms of use, it's explicitly stated that any contributions do not include "any advertising or promote any services or links to other sites", which is a welcome change. The newsfeed can be prioritised in order of most recent, most visited, most discussed or voted amongst others.
Is no one capable of replacing Meta's platforms?
Put simply, it's going to take more than a monumental effort and long list of mistakes by Meta for someone to replace its social media offerings. There's no direct competition in the sense that no one offers the exact same services in one place the way Facebook does, for example. Facebook is a platform where one can upload photos, create and host events, video call loved ones and join groups of people with similar interests. The way the market is split, to do that you'd have to join different platforms.
The other issue is that, really and truly, how many of your friends are on these platforms? The Maltese population is, by and large, on Facebook, Instagram and TikTok, and the latter, despite its size, does not offer the same things like Facebook. True, that is part of its appeal, but since it lacks so many of the above-mentioned features, then it's simply not going to attract the same numbers and have the same engagement levels as Facebook.
It would take a mass migration akin to what had happened when people switched from Hi5 to Facebook back in the day because people will always flock to where their friends are headed, but with each alternative platform being relatively niche in its offering, it's unlikely that people will actually stop using Meta's products and go somewhere else.
And that's the other pressing matter; there are no discernible alternatives to what Facebook and Instagram are today. Meta has made it very clear where they're headed in terms of evolution, with an €8.7 billion investment into the metaverse. Basically, if social media platforms can barely offer what Meta offers right now, how can they possibly hope to compete in the future?
If Facebook & Instagram are blocked in Europe, would you look for an alternative?