Visit almost any local social media page and you're likely to witness a butchering of the Maltese language. Whether it's spelling, grammar and syntax, or incorrect gender use, there's an endless list of mistakes being made.
However, for those willing to make the minimum effort of writing and speaking the language correctly, translator David Schembri came up with the website ikteb.mt. Here you'll find the latest updates made to the Maltese linguistic rules, along with correct spelling forms of localities. Gadgets met the man behind the movement to see where it all came from, where it's going and why.
National language, but not dominant
"I was raised bilingual, and I was brought up to cherish our linguistic heritage", David says, explaining how languages were a passion of his from a young age. "Maltese is very close to heart both in terms of language as well as culture, but it pains me that despite being our national language, it is not always given the respect it deserves."
One point he makes is that even though Maltese is the most spoken language among the Maltese, this is not reflected in its visibility in writing, be it local publications, signs, and even on government websites. "For instance, one thing that annoys me is that there are elected politicians who will issue statements riddled with writing errors. Would another country stand for this disrespect for its national language?"
As uncomfortable as that question may be, it's also entirely fair. So, what resulted in him wanting to build this website? Which he did alone, by the way, through WordPress.
Losing touch
Having spent some time studying in the UK, on his return to Malta, David felt the need to write in Maltese. But there was one problem. "Despite having studied in Malta, and despite my love of the language, I had lost touch with the finer points of grammar and spelling, since in a professional or academic setting, English is by far the most written language," he says.
One of the main aims of the site was to make the "Deċiżjonijiet 1" easily accessible online. Schembri felt that they needed to be more accessible and easier to copy and paste, rather than only being available on a PDF on the "Kunsill Nazzjonali tal-Ilsien Malti" website.
"These decisions were taken in 2008, and yet many people still don't know about them; publishing them on a simple website rather than a PDF makes them more accessible, and hopefully easier to read", David explains.
After enrolling in a proofreading course at the University of Malta to brush up on his knowledge of Maltese, David came up with the idea of creating an online resource to help people who, like him, wanted to write in Maltese but struggled with some of the finer points. And so, the idea for ikteb.mt was born.
"Imagine a UK minister making basic spelling mistakes when writing or saying something in English; even we'd make fun of them. But we don't do the same with our language, we give people a free pass when making mistakes in Maltese. We need to give due respect to our national language."
A former journalist, David had his former trade in mind when creating the website. "I think it's shameful that English-language websites in Malta, very often staffed by Maltese people, seem to think it's perfectly fine to write placenames or quote in Maltese without using the Maltese alphabet," he laments.
Rather than just complaining, he included an easily copied list of Maltese placenames on the site, hoping that journalists would be able to copy and paste the correct names without having to change their device's language setting (although there are guides on how to do that too).
The way forward
One thing that David makes clear is that this is not a website to teach beginners how to write in Maltese. Rather, it's for people who already know how to read and write in Maltese but just need some fine-tuning. "It cannot be a one-stop-shop for everything language-related, but I'm aiming to gather enough resources on it so that the most common difficulties are addressed".
How can written Maltese improve across the board, we ask him. "The first step would be for people to read more in Maltese – and that includes literature as well as news. Another step would be to buy a dictionary, even a small one, and use it," he says. Changing your devices keyboard language to Maltese is another helpful method, and as Schembri reveals from his own experience, it doesn't get in the way of writing in other languages.
For those wishing for a more thorough reference guide, he suggests "Nikteb il-Malti Tajjeb" orthography. Similar to ikteb.mt, it's intended for people who already have an understanding of the language.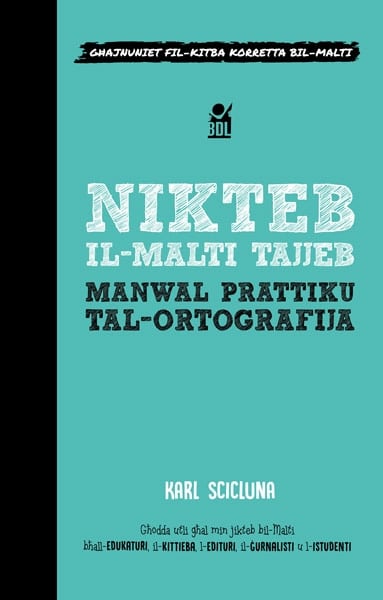 So, as expected, the best way to get people writing correctly in Maltese again is by practising, making mistakes and learning from these mistakes.
Be confident
If all of this has got you scared of writing in Maltese, then you've missed the point. In fact, the website's tag line reads "Tibżax, ikteb", which translates to "Don't be scared, write". For David, that was the case for a while, but he gained confidence after the initial mistakes.
"I was scared of making mistakes too, but that's how you learn", he says with a smile. "At the end of the day, I enjoy seeing Maltese written well and more often, and I hope that this site will help us get there."
As mentioned earlier, the platform is a one-man show at the moment, but any help in terms of coding to fine-tune the website would be greatly appreciated. Get in touch with us if you'd like to help David out.
Will this website help the country speak and write better in Maltese? Tell us in the comments below!