2016's Sing was a genuine surprise. The teaser trailer made it seem like a cynical cash-grab, little more than X-Factor with animals. However, it had a secret weapon in writer-director Garth Jennings, the hugely creative Brit who started out as a music-video wunderkind and went on to helm loveably offbeat films like A Hitchhiker's Guide to the Galaxy and Son of Rambow.
Under his direction, Sing was undeniably charming. It was packed with visual humour and created a colourful yet grounded world that recalled Richard Scarry's picture books. It also proved to be a box office smash, so Jennings quickly found himself back in the driving seat for round 2. And, thankfully, he's pulled it off yet again.
The plot sees the theatre-running Koala Buster Moon (Matthew McConaughey) take his rag-tag team of musical stars to a major audition in Redshore City (an idyllic version of Las Vegas). The team soon finds themselves in over their heads, prepping an epic sci-fi musical under the glaring eye of cutthroat producer Jimmy Crystal (Bobby Cannavale), a wolf who's both very big, and very bad.
The cast is ludicrously star-studded, with Scarlett Johansson, Taron Edgerton, and Reece Witherspoon reprising their roles, while new additions include Eric Andre, Chelsea Peretti, and rock legend Bono. All are perfectly cast, lending their animal avatars a lot of personality. (Adam Buxton, in particular, comes close to stealing the show as a spiteful proboscis
monkey choreographer.)
It's McConaughey's Buster, though, who's the beating heart of the film, a dreamer who simply won't give up. As he ducks and dives around the showbiz system, it feels fondly reminiscent of Tim Burton's biopic 'Ed Wood'.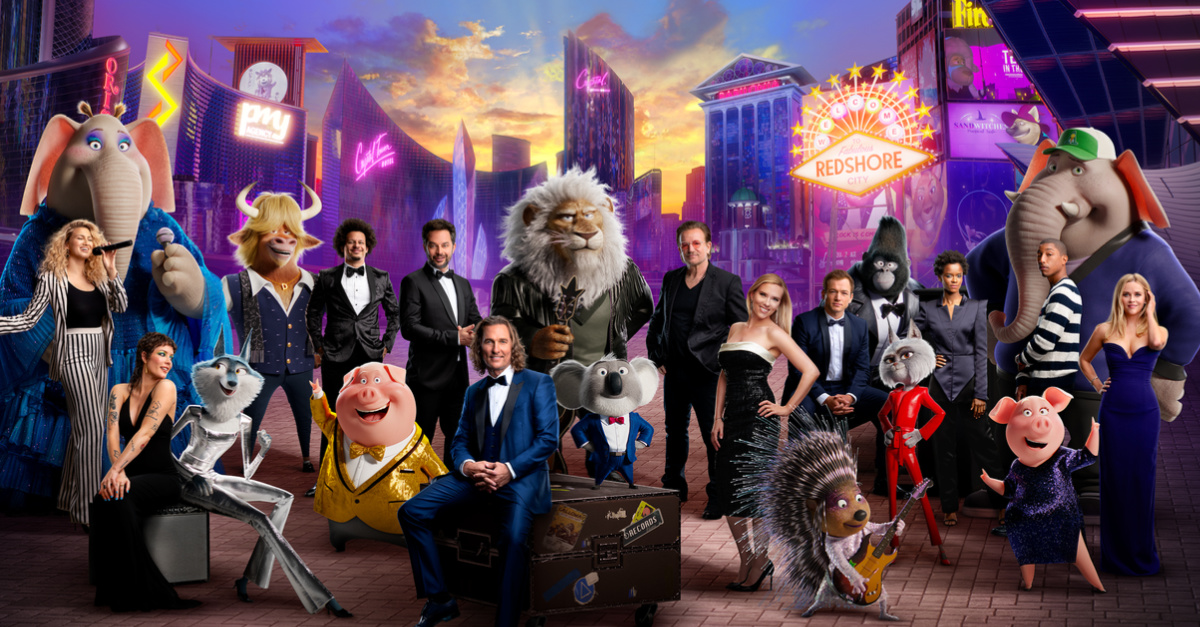 However, while you're always rooting for him, the stakes in this film don't feel quite as personal as they did in the first. Back then, he was trying to save the theatre his father had sacrificed so much to buy for him. Here, he's simply trying to get into the big leagues. It's an entertaining ride, but the emotional weight is somewhat missing.
Likewise, the film is so stuffed with characters that individually their stories are rather underserved. The romance between shy elephant Meena (Tori Kelly) and Alfonso (Pharrel Williams) seems particularly rushed.
Nevertheless, Jennings has delivered a kaleidoscopic visual feast that demands to be seen on the big screen. Sure, it lacks the element of surprise that made Sing seem so special, but this is a worthy follow-up, crafted with obvious affection for its menagerie of unlikely heroes.
Bigger, brighter, busier: Sing 2 is a true sequel and a hugely enjoyable one at that. While it doesn't quite have the poignancy of the first film, it makes up for it in spectacle and unabashed entertainment.
★★★★☆
Bruce Micallef Eynaud is the creative director at VSQUARED and is also a filmmaker, working mainly in commercials and short films. He's also a movie geek with an MA in Film Studies. His favourite filmmakers are Steven Spielberg, Paul Thomas Anderson and Richard Linklater.